It's safe to say that Appelflappen, or apple fritters, are my newest obsession.
I've been making them everyday for the past three day, and sometimes more than just once a day. I've made so many different versions of them, I'm pretty sure I can fend any questions about them. Even about how it might be when you make them eggless (!). I looked up recipes for apple fritters, as the are made in different cultures – from making them with grated apples in Hungary to using specialised cast iron moulds for popover-like beignets called æbleskiver in Denmark – I settled on a recipe based on Dutch appleflapens, mostly because they seem simple enough and didn't need special equipment.
All the times that I made the fritters, I stuck to the exact same recipe below, scaled down for two people, except the time when I made them eggless. Here are my observations:
Take 1:
I followed the instructions in the recipe to the letter. End result: soft custardy casing that was crisp in corners where the batter had clumped up. The apples were quite firm.
Take 2: Arjun's favourite.
I let the apple slices coated in cinnamon and sugar sit for 2 hours or so before deep frying. The apples lost their firmness but still had a bite to them. Custardy casing again.
Take 3: My favourite.
Thinly sliced apples coated in cinnamon sugar. I let this sit for about 15 minutes (didn't want them sitting longer because the'd get mushy). These turned out to be the crispiest of the lot. Because they were so thinly sliced, the apples don't lend as much moisture to the appelflappen which makes them crispy and not necessarily typical of Appelflappen but this one was my favourite. I snapped a photo of it on Instagram.
Take 4:
0.5 cm – 0.7cm cut apples coated in cinnamon and sugar and refrigerated overnight. Result: very mushy apple slices that don't hold shape and result in cloyingly sweet fritters. I used the leftover batter to make banana fritters that we ate with Speculoos flavoured Häagen-Dazs.
Take 5:
I had one last banana sitting on the counter so I made a scaled down version of the batter recipe and skipped the eggs (just because I didn't want to waste an entire egg for the sake of 16.5g). Result: crispy fritters, that reminded me of fish and chips. Which essentially means that I had a crispy exterior but none of the custardy goodness that's reminiscent of beignets, pancakes, waffles and such breakfast treats.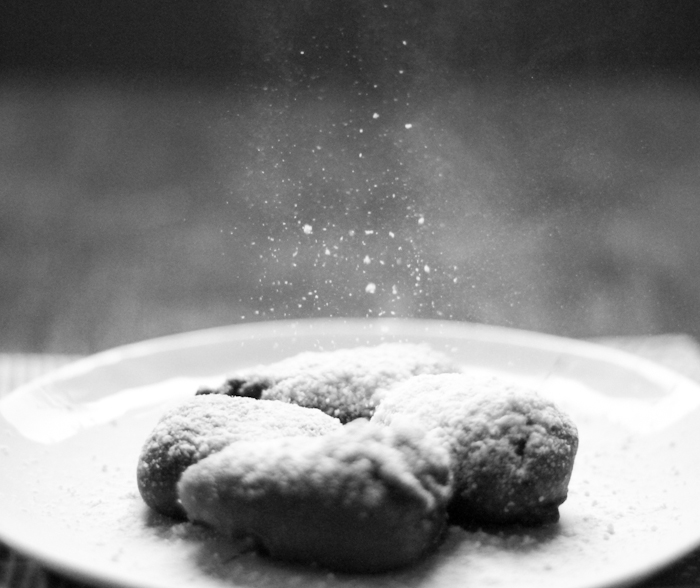 Oil temperatures: In all cases, the oil I used for deep frying was about 160ºC – I didn't just want the batter cooked but also the fruit. The one time I did deep fry the bananas at 190ºC, the casing turned out to be extremely crispy ( it was also the one without any eggs added) and turned golden brown within seconds, but the banana didn't heat through and the inner coating of batter was uncooked.
Appleflapens
Serves: 4
4-5 apples (I used my favorite kind, Pink Lady)
3 tablespoons vanilla sugar
1/2 teaspoon Cinnamon
300g flour
1 tsp baking powder
1/2 tsp sugar
300g milk
2 tablespoons sugar
2 egg
Oil for deep frying
Icing sugar
In a bowl, mix together the

vanilla sugar

and cinnamon.

Peel and core the apples and slice them to a thickness of a little under 1 cm. Toss the apple slices in the bowl of cinnamon sugar to coat. Set aside until you make the batter.

Mix a little more than half of the milk with the flour + baking powder + 1/2 tsp salt until you get a thick batter. Once the mixture is consistent, stir in the rest of the milk. This way, you won't end up with a lumpy batter. Stir in the egg and sugar.

Heat a large cooking pot and pour in the oil. The oil should come up to at least 4 cms up the sides of the pot. Let it heat (test with a few drops of the batter).

Dip the apple slices in the batter and drop it into the hot oil. Let it cook until golden brown. Drain and transfer to a paper towel.

Sprinkle with icing sugar and serve hot.