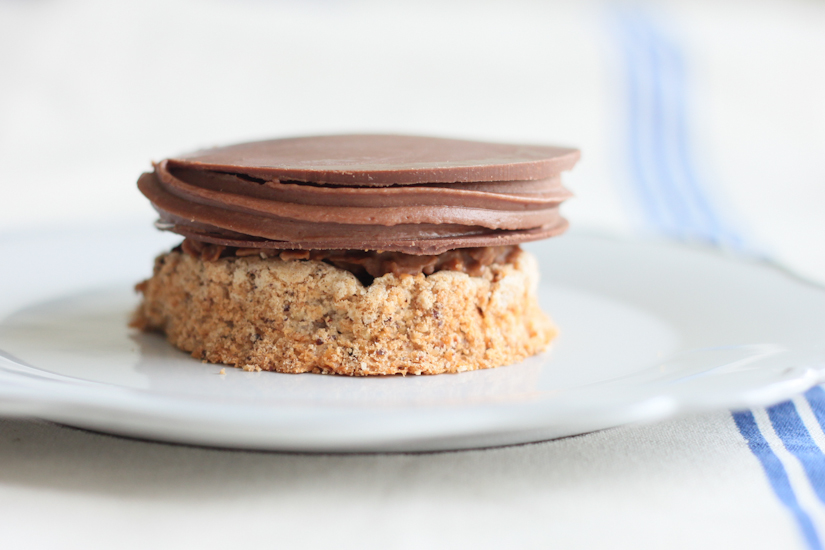 This is quite simply the best chocolate dessert I have ever had.
Pierre Hermé calls it Plaisir Sucré. Maison Landemaine calls it Jivara. Le Cordon Bleu calls it Douceur Chocolat. There might be many more versions of it around Paris, but at its core it's the most delicate chocolate and hazelnut cake  built over several layers of sublime textures.
This one is a slightly simplified version of it. The only technique that you really need to know for this is chocolate tempering.  Simply put, the chocolate you buy is already in temper. But if you want to melt it to coat truffles, or in this cake, make chocolate discs, it needs to be in temper first. This means that you have to raise the temperature of milk chocolate to 40-50C, bring it down to 25C and then gently bring it back up to 30C, which is the working temperature for milk chocolate. By doing this the fat crystals realign themselves and the resulting set chocolate will have a lovely shine and crisp snap as opposed to being streaky and pliable.
What makes this cake so special for me is the layer that's spread on the dacquoise – it's a mix of milk chocolate, butter, hazelnut paste, toasted hazelnuts, praline and feuilletine. While you can make your own hazelnut paste and praline (tutorial coming up soon), feuilletine is the wildcard. It's crushed up Gavotte Crepes that are incredibly addictive and the ones coated in milk chocolate always find their way into my basket at Monoprix. If you find yourself in Paris, you can buy a bag of feuilletine at G. Detou for about €5 [read more…]
{ 0 comments }