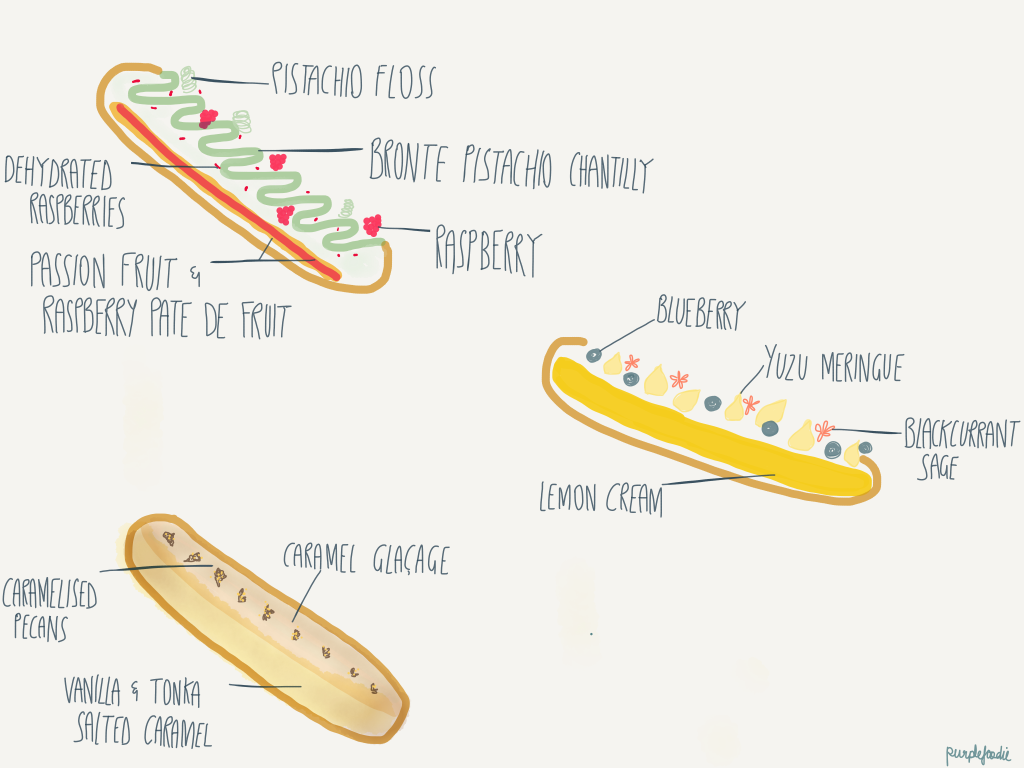 Everybody loves choux these days.
At first I wasn't a fan. Not until I tried choux with the modern, crunchy craquelin, which transformed choux buns and eclairs from soft and neutral to crumbly, textured and sweet. And when you see artists like Cedric Grolet work their magic creating a hazelnut loaded Paris Brest who wouldn't want one?
I thrive on being in the kitchen, but just as exciting is the process of imagining what I want my pastry to be like on paper. The different elements, their arrangement, the kind of piping tip I'm going to use, the flavours (always classic with a twist when feeding a large crowd), the processes to achieve different textures (cremeux, mousseline, meringue, caramelised nuts, pate de fruit, fruit confit, guimauves, feuilletine, chocolate coated crispies, crumble) and the looks (gold spray, cocoa butter spray, flowers, gold leaf, spun sugar, isomalt sugar shards). Here's a sketch of the eclairs I will make for a special event in July.
PS: In other news, I'm almost done with the manuscript for my first cookbook – Paris Picnic Club (we also finally have a name!). It basically feels like writing a reaaaaalllly long blog post. Hopefully after two iterations it will be off to the printers, and you can have a book in your hands next March!