When I was in Paris a few months ago, I was lucky to be living in the cutest little apartment with a well stocked pantry and the most gracious host. That's where I first got a taste of this delicious cheese spread – light fluffy, sweetened with honey, and crunchy with walnuts and figs. I ate it spread on a baguette, slice after slice.
I'd never imagined I'd like my cheese sweet or I'd enjoy pieces of nuts in it. I'm usually the kind that carefully picks out cashews and almond from my food. But with this cheese spread it didn't feel one bit odd. It was perfect. The subtle sweetness from the honey, the mild bite of the softened walnuts and the crunchy seeds of figs all worked in unison.
I brought back tubs of the cheese back home, but that didn't last too long. With the yearning to replicate that flavour, I set out to make the cheese spread of my rêves. I started with whipping up equal quantities of cream cheese and cottage cheese together. The cream cheese brings in the tanginess, whereas the crumbled cottage cheese is perfect for a fluffy volume and a pleasantly inconsistent texture. To that I added a handful of roasted walnuts that dried figs that I chopped up. This is a chunkier version of the cheese spread with extra walnuts and figs. If you'd like a smoother version, you can cut the dry fruits by half.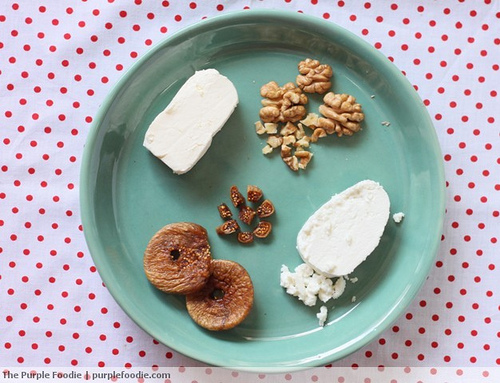 Fig and Walnut Cheese Spread with Honey
Ingredients
125g. cream cheese (Philadelphia)
125g. cottage cheese, crumbled
50g. dried figs and roasted walnuts, chopped
1 tbsp honey
Method
In a bowl, add the cream cheese and cottage cheese and gently whip together until evenly incorporated and slightly fluffy. It's best to do this when both the cheeses are at room temperature.
Next, add in the dry fruits and stir till they're evenly distributed.
Finally, stir in a tablespoon of honey for sweetness.
Transfer to a container and store it in the refrigerator for a little while for the flavours to meld. Spread on bread or eat by the spoonfuls.