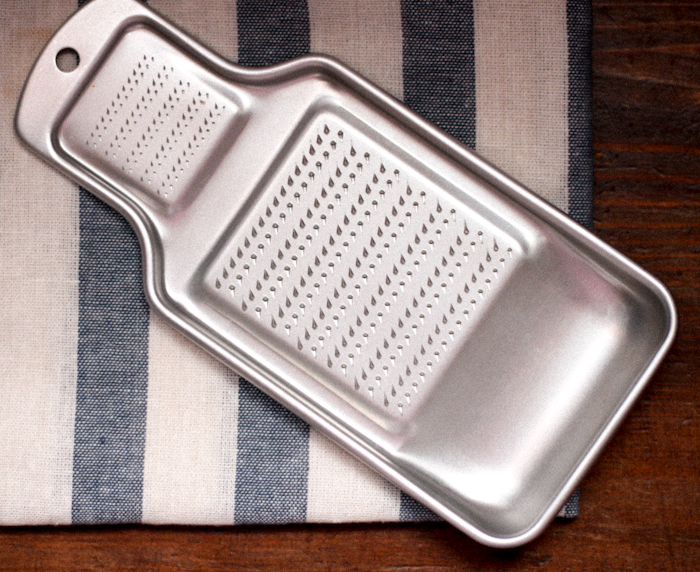 I've been enjoying a few new things lately that I thought were worth a share.
Japanese Ginger Grater
Even if I just spoke about this ginger grater alone, I'd consider this a very worthy post. This Japanese grater is absolutely brilliant. I used to use my Microplane for grating fresh ginger, but was invariably stuck cleaning out the fibres that got lodged in there. This, my friends, is path-breaking. I'm not the kind impressed by kitchen tools easily because I belong to the school of thought that you don't need a gazillion new-fangled different tools to cook. Stick to the basics, and you'll be fine. Come to think of it, the last tool that did get me excited was the Microplane, which was so many years ago. Now the hard part of sourcing it; I bought mine from Merci in Paris for €7.90 and I just looked up Amazon and they have one as well.
The Perennial Plate
I have been watching the short films on food by The Perennial Plate on and off ever since I discovered them (thanks 101 Cookbooks!). Their latest one documents the dabbawalas of Mumbai. Made me miss home.
Jerusalem (USA | UK | India)
I've wanted to buy this book ever since it released. I've kept so many book purchases on hold only because we've been living like nomads (and loving it) but I finally gave in and bought this one – I've made the butternut squash, Brick and Krantz cake already (aka babka) and like all Yotam Ottolenghi recipes, they've all been pretty darn amazing.
Coconut sugar and sticky coconut syrup
As a kid, and even as a teenager, I never liked coconut. Of late, however, it's been quite the opposite.  Every time I'm at the Chinese market, I'm constantly on the lookout for anything coconutty – I picked up coconut sugar on one visit and have been eating it straight from the jar (my new Nutella/Speculoos?). I've also been using it to add into Asian curries in place of palm sugar. It's addictive. On another trip, I discovered a Vietnamese sauce Nuoc Mau Dua Ben Tre, or simply put, condensed coconut. Now, Chinese markets are filled with hundreds of exotic ingredients and I usually go there with a shopping list in hand, but blinded by my new-found coconut obsession I bought this without knowing anything about it. If you've used it before, please tell me what you did!
Bon Appétit Desserts (USA | UK | India)
I've been flipping through the pages of Bon Appétit dessert and everything in there looks so good! I have the page for the (surprise-surprise!) coconut milk bundt cake dog-eared. Cannot wait.
Skillshare Class on Video Muse
I love taking photos and over all these years of blogging I feel like I've figured out my style and seen it evolve with my changing taste. Making videos is something that has been on my mind, but I haven't worked on developing my skills. I stumbled upon a class on Skillshare where we'd learn to make a 5 minute video portrait and signed up instantly.
True Coral
Ever since my editor at BBC Good Food introduced me to red lipstick almost two years ago, I'm one convert. I was recently gifted True Coral by Tom Ford (thanks, Mansi!) lately and I've been wearing it everywhere. Love it, love it.
Le Fooding App
Eating out at new places is almost always a well-researched process because it irks me to spend money on subpar food. On returning to Paris, I got the Le Fooding 2013 App that helps me discover new gems around the city. I like it because it's not crowd-sourced and covers a fun mix of unconventional places in all price ranges. I even ended up finding interesting restaurants close to my home that I hadn't heard about!
Francis Lam on Food is the New Rock
I'm always looking for new tunes and podcasts (with the BBC Food Program and Spilled Milk being my favourites) to cook to and I had a good time listening to Francis Lam last night while I chopped onions for a beef ragout.