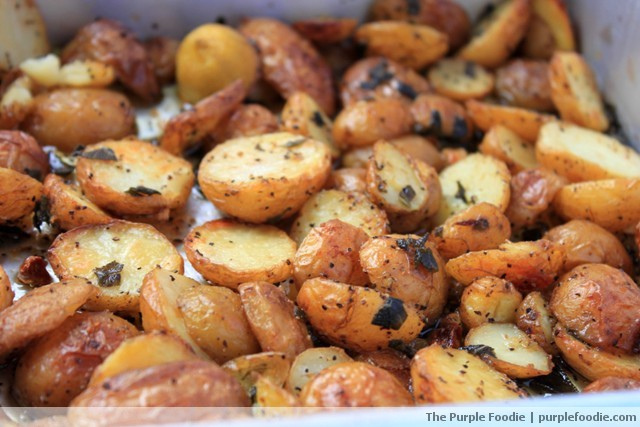 There are roasted potatoes. And then there are crispy roasted potatoes. So when I discovered a new way to perk up some tubers, I was only to thrilled to try it out.  In addition to this method of treating the potatoes, the lemon-sage is something I'm pretty happy to discover (and use more often).
I had a big bagful of baby potatoes that I wanted to use up so I flipped through my favourite books for inspiration. What particularly caught my fancy was the one with lemon, garlic (surprise surprise!) and sage from the Ottolenghi cookbook.
While making these potatoes, I tried something new that would give me an even crispier outside. Are you ready for it? So here is what I did: I boiled the potatoes in salted water. Then cut them into half while still warm (you just might learn to juggle while doing this.) And then finally threw all the cut potatoes into a huge box (a bowl covered with a plate works just as well) and shook the whole thing up pretty vigorously. Of course, you need to make sure that you don't boil the potatoes too much – just until a knife goes through without any resistance. A little more, and the potatoes will fall apart when you're bashing them up. The point here is to bash up the potatoes a little so they get rough on the edges.  This way, they will get super, and I mean super crispy once they are done. And the inside? Soft and velvety – just like mashed potatoes. Hat tip: Molly and Matthew for introducing me to this method on their Crispy Potato podcast. Incidentally, Nigella Lawson is so proud of this method of hers that she's included it in four of her cookbooks! Although she uses over 2 cups of goose fat (gasp).
Another thing that I like to do is to keep the potatoes in the oven for a slightly longer time than prescribed in the recipes. This too, helps in making it crispier.  These are excellent to make ahead of time as well. You can cook them fully and then just before serving, put them in the oven for ten minutes and they are good to gobble.
Go make them, you're going to love it. And to suit your taste, you can add whatever spice or seasoning you like.
Crispy Roasted Potatoes with Lemon, Garlic and Sage
Inspired from: Ottolenghi Cookbook (USA | UK | India) and Nigella Lawson (USA | UK | India)
Yield: 4-6 servings
Ingredients:
1kg / 2.2lbs new potatoes (if you're using larger potatoes, you can cut them to the size you like)
4-6 cloves of garlic, chopped
50ml olive oil
2 tbsp roughly chopped sage
1 lemon
Salt and pepper
Method:
Boil the potatoes in plenty of salted water. Pass a knife through it to check for doneness after 7-9 minutes. Longer, if you're using larger potatoes.
Once boiled, cut the potatoes into half lengthwise and transfer to a big box that will hold all the potatoes and still have additional room. Shake the box vigorously until the potatoes look smashed on the edges.
Toss with garlic, olive oil, sage, juice of lemon, salt and pepper.
Transfer to a roasting pan and layer the potatoes in a single layer.
Roast the potatoes in the oven at 200C/390F for 30-40 minutes until crispy, golden and brown.
Remove from the oven and serve immediately, perhaps with a sprinkling of chopped parsley.