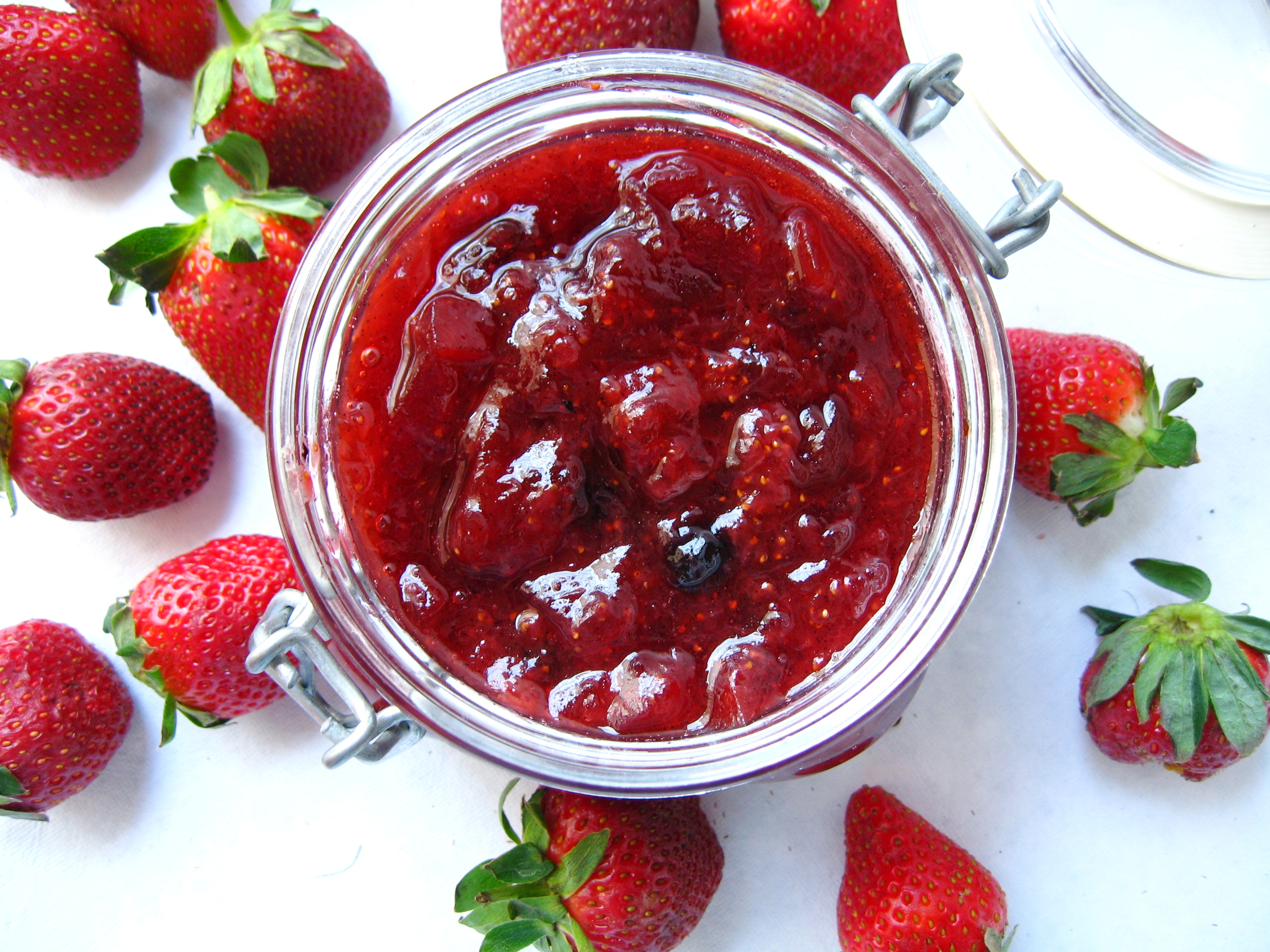 When I saw the picture of the strawberry jam in Ina Garten's Barefoot Contessa Back to Basics, I just knew that I had to make that jam. Gorgeous ruby red, with blueberries peeking through, the jam looked spectacular. What I found even more interesting was that Ina had used green apples with the strawberries for the jam. Her reason was to use up the natural pectin that is abundant in green apples, but mine was to highlight the flavours of strawberries and apples equally (well, almost.)
You might feel making jam might be super labour intensive and would probably think that these tasks are better left to grandmums. I used to think so too, until I realized how quickly this jam came together.
I love, just absolutely love how this tastes. I always prefer my jams chunky to get the feel of the fruit, but you can go ahead and puree it if you like a smooth texture.

Strawberry and Apple Jam
Liberally adapted from: Barefoot Contessa, Back to Basics by Ina Garten
1 lb / 500g strawberries, washed and hulled
14 oz / 400g caster sugar
2 Granny Smith apples, peeled, cored and diced
½ cup fresh blueberries (I used dried)
Cut the large strawberries into half and leave the small ones whole.
Now place the berries in a heavy bottomed saucepan, such as a Le Creuset, and toss it with the sugar.
Bring the mixture to a boil over a low heat, stirring often. Now add the apples and blueberries. Let the jam continue to boil until it reaches 220F on a candy thermometer; this should take 25-35 minutes.
Make sure to skim and discard any foam that rises to the top every so often.
Allow the mixture to cool and store it covered in the refrigerator for 1 week or can it according to manufacturer's instructions.