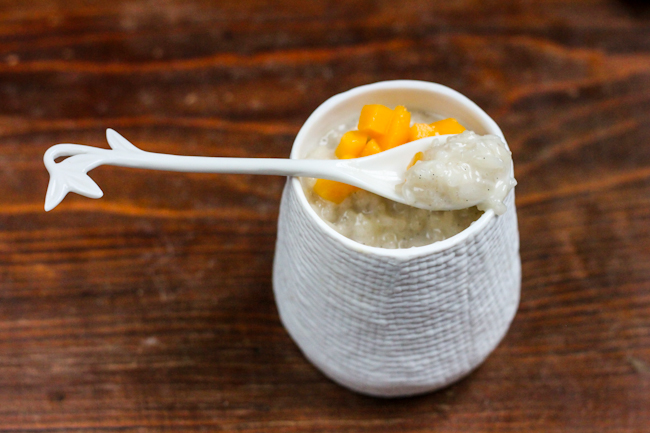 It's been a crazy week ten days. Totally crazy.
Jennie and I are working hard on our dream project, and we've been off to a good start. Working on your dream project means you do everything: the fun things like tasting 4 different strawberries, eating at different places in the name of "research" as well as the not-so-fun-things like cleaning the floors, carrying 18 kilos of pork belly on the Métro (strong Jennie!) and standing on our feet for 23 hours straight making batches of dough until the KitchenAid motor begins to hop about the table. We did all this as a part of our pilot project for Europe's biggest B-school sports tournament and we did pretty darn well, selling over 400 pork buns! After this, I think I can safely add steamed bun-maker to my CV.
***
I have wanted to go to Le Cordon Bleu, because studying Basic Cuisine was an amazing experience (Day 1). I learned so much about French food, honed my skills and learned techniques from the best chefs in the business that will stay with me forever. Basic Cuisine was a huge learning curve for me – knife skills, rosé ducks, perfectly risen soufflés, scoring a perfect 100 in my theory exam, the great French sauces and so much more. Those 3 months went by like a breeze and left me wanting to go back to school as soon as I got the opportunity. A few months ago, I applied for The Culinary Trust scholarship to take on the Intermediate level in French cuisine at Le Cordon Bleu. I wrote my essay, filled out the forms, submitted them and then waited (the hardest part).
Soon enough, I had my telephone interview – and even though I'd done it before for the scholarships I won in 2011, I was still so nervous: butterflies and deep breathing pretty much sums it up. A few days later my interviewer emailed asking to schedule another call. All sorts of things went through my head: is there a second competitor I'm head-to-head with? Am I not good enough? Did they find someone else and they are calling to turn me down? But (and a big, big but) why would anyone call someone with bad news on a Friday? Maybe, they'e got something positive to say instead?
At the scheduled time, I got myself into a comfy spot and stared at my phone screen, waiting for it to light up. And it did; on the dot, turning out to be the best 3 minute Skype call of the year. I won. I keep going back to the The Culinary Trust website to see my name up there.
It's time to sharpen my knives, bring out my whites from the cellar and buy some stationery because in less than a month, I'll be back at Le Cordon Bleu. (!!!!!!!!!)
***
I recently discovered the work of a pastry chef and writer and Paris, and I've been reading her blog every night. You should read it. Also, I watched all the videos on La Pâtisserie des Rêves (and then was immediately off to the pastry shop to get my sweet fix) – and now I need to make their tarte tatin. I'm off to Amsterdam later this week – if you have any suggestions/recommendations please send them my way!
***
I still haven't got enough of coconut-flavoured-anything. High on my list of things to make with coconut was the famous Thai sticky coconut rice – the sticky, sweet, unctuous coconut milk soaked rice that I gave a little twist of my own with a bit of vanilla bean added in to the warm coconut milk and left it to infuse for about 20 minutes which elevated the sweet fragrance and made the blob-looking sticky coconut rice slightly prettier. And even then, visual appeal isn't one of its strong suits – so while it looks like a goopy mass in a plate, it's best to serve these in cups or glasses. I topped it with fresh mango because that's the only way to go with Aphonso mangoes around, but I'd think I'd love them with strawberries and raspberries as well. Maybe even some grilled pineapple.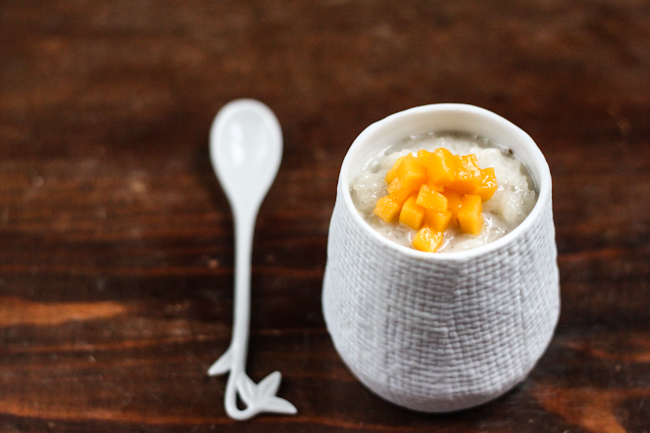 Sticky Vanilla and Coconut Rice with Mangoes
Adapted from: She Simmers Serves: 2-3 I changed a whole bunch of things: increased the coconut milk - yielding a more pudding like consistency, infused the coconut milk with vanilla, reduced the sugar because I don't like overtly sweet things and used coconut sugar instead. Result? Amazing enough to skip lunch an eat an entire cup of sticky coconut rice.
Ingredients
3/4th cup good coconut milk
1 inch vanilla, split and scraped
½ cup sticky rice, soaked overnight
1/3 cup coconut sugar (or caster sugar if you don't have this)
¼ teaspoon salt
One mango - Alphonso!
Method
In a pan, whisk together the vanilla and coconut milk and bring it to a gentle simmer. Turn off the heat and let the vanilla infuse into the coconut milk.
Put the rice in a heatproof bowl and steam in a steamer, over medium heat, for about 20 minutes. The rice should be cooked through with no hard, raw bits in the middle of the grains.
Bring the coconut milk back to a simmer - add the sugar and salt and mix until the sugar has dissolved
Transfer the sticky coconut rice into a bowl and pour the hot coconut mixture over it. Stir gently until the coconut milk is evenly distributed. Cover. Let it stand for 30 minutes. After 30 minutes, you'll notice that the rice has absorbed all the coconut milk.
Serve immediately with mangoes.
Note: Try and make it just when you want to eat it - reheated sticky coconut rice doesn't have a very enjoyable texture.
http://purplefoodie.com/sticky-vanilla-and-coconut-rice/