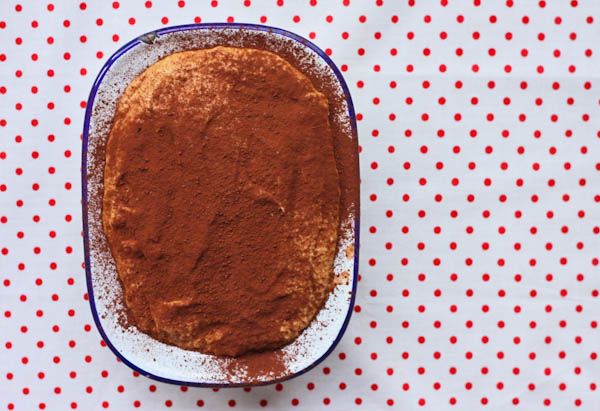 (The one in the photo above is Speculoos Tiramisù)
Today I made three types of Tiramisù: Plain, redolent with strong coffee. Speculoos. And Nutella.
Up until a few months ago, I didn't think Tiramisù could have flavours. I tried the Speculoos one in Brussels, and I was sold. If you think about it, Lotus Speculoos spread and Nutella added to anything make the recipe worth saving. I used the same recipe that I always do to make Tiramisù. For the Speculoos and Nutella versions, the recipe remains exactly the same until the point the creamy mascarpone mixture and egg whites and folded in together.
Once you have the creamy mascarpone ready, divide it into three bowls. In the first bowl, whisk in 2 heaped spoonfuls of Nutella until perfectly incorporated, in the second bowl whisk in 2 heaped spoonfuls of Speculoos spread and make no additions to the third bowl (this one's the plain one). Next, it's time to fold in the egg whites. Approximate a third of the egg whites per bowl of creamy mascarpone.  Begin by adding a few spoonfuls to lighten the texture, and then go on to fold in the remaining egg whites.
Finally, assemble the Tiramisù, just like you would when making the regular Italian version, with coffee soaked ladyfinger biscuits (or make your own!). Even better: layer the three versions of the creamy mascarpone between soaked biscuits in a single dish. Absolute wickedness.
My Tiramisù is still setting in the fridge to be eaten up after dinner, but I couldn't help stealing a bite from the edge. I hope my husband doesn't notice.
Have a wonderful V Day!