This post is published in association with Thorntons Chocolate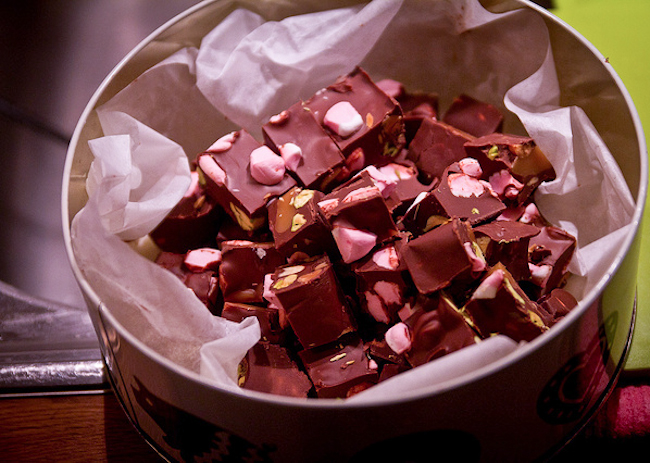 Photo credit: Andreas Ivarsson
There aren't many no-bake recipes on this blog, and this rocky road recipe helps fill that little void. This one's easy: melt chocolate with butter, fold in a bunch of ingredients and pour it all into a mould to set for a few hours and cut up into squares. Once you've got your chocolate base ready, you can also adapt the recipe to use your favourite nuts and dried fruits.
This tasty marshmallow and cherry recipe made with the finest milk chocolate makes for a pretty good lunch box snack or party treat.
Rocky Road Recipe
250g 85% Thorntons extra dark chocolate block, chopped
135g 135g Thorntons Belgian milk chocolate, chopped
175g butter, softened, plus extra for greasing
4 tbsp golden syrup
200g ginger biscuits
150g Thorntons milk chocolate Brazil nuts
150g red glacé cherries
125g mini marshmallows
1 tbsp icing sugar and a sprinkle of edible glitter
Grease and line a medium sized baking tray.

Put the ginger biscuits into a sealable freezer bag or similar. Use a rolling pin to crush the biscuits but leave some larger pieces in tact so you have a mixture of crumbs and chunks. Set aside.

Repeat the process with Thorntons chocolate covered Brazil nuts in another freezer bag.

In a mixing bowl, combine the chocolate from Thorntons, golden syrup and the butter and place it over simmering water on the hob on a low heat.

Remove from heat once the chocolate has melted and mix in the bag of biscuits, Brazil nuts, marshmallows and cherries; drowning them in a sea of melted chocolate. Pour the mixture into the greased and lined baking tray and smooth the surface, (although it will have a scrumptious texture). Chill for at least two hours or even over night.

Finish with lightly dusted icing sugar over the top by using a sieve or tea strainer, then sprinkle with edible glitter for a glamorous look. Chop your rocky road dessert into squares, and enjoy!