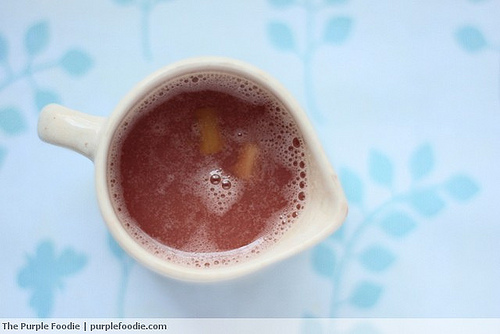 If the science report on fruit flies' affinity for fizzy drinks is to be believed, the fruit fly in me is coming to life.  I've been drinking way too much fizz out of a can because each day seems to be getting hotter than the previous. Really need October to go by quickly. Plus, I'm really looking forward to planting some San Marzano tomatoes and Spanish yellow chillies.
I decided to make myself a bottle of syrup to top some club soda with, instead of drinking the caffeine and sugar concentrated drinks. And when I saw gorgeous hot pink stalks of rhubarb on the market shelves, it was confirmed – I'd make some rhubarb syrup.
This one's a genius recipe – the variations for this recipe are only limited by your imagination, and better still – there is no waste! You use the syrup for your drinks and the pulp makes a delicious jam spread on toast. Your grandmom will be proud.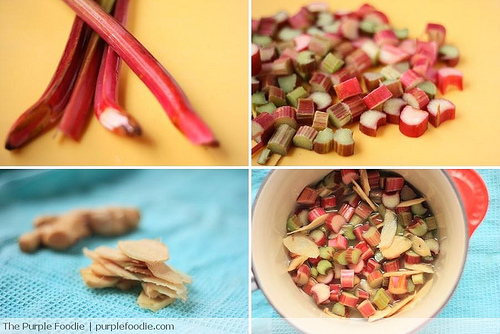 Before I move on to the recipe, here are the winners for the two giveaways. Drumroll….
Hand-made silk clutch: Nags from Singapore!
Popina + Vanilla Bean giveaway: Adriana from Oregon, USA!
Congratulations, girls! Please email me your addresses and I will have your goodies sent out to you.
Now, back to the rhubarb recipe.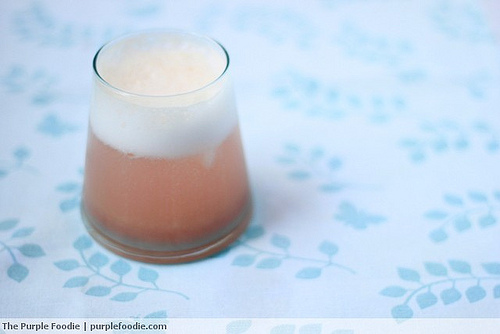 Rhubarb and Ginger Syrup Recipe
Adapted from: The Kitchn
4 cups / 600-700g pink rhubarb, chopped into cubes
1 inch ginger, sliced
1 cup / 200g sugar
1 cup / 200ml water
Put all the ingredients together in a saucepan and let it simmer for about 15-20 mintutes, until the rhubarb becomes pulpy and has completely disintegrated. Strain through a sieve and once cooled, store in a sterilised glass bottle.
I added a few slices of ginger to the bottle so that the flavour of the syrup gets richer as it steeps.
To make the Rhubarb Ginger Fizz: In a glass, throw in a few ice cubes and then add about 3-4 tbsp syrup over it. Pour club soda. Stir. Drink up. Relax.
Variations:
Skip the ginger, and juliennes of basil leaves right before you turn off the heat.
Make it plain without any ginger to let the flavour of the rhubarb shine through.
Split and scrape ½ a pod of vanilla and throw in in while cooking down the rhubarb.