Updates:
Homemade Breads class on Saturday 22nd Nov is sold out
Four new classes are added for Saturday 29th Nov and Sunday 30th Nov
Hi Everyone!
I am so  happy to announce that I will be conducting a string of baking classes in Bombay this November! I've drawn up a list of exciting recipes to share with you that I've culled from my experience working in Paris, running Friday Lunches and stolen from pastry chef friends. I've also included some of your requests on Facebook on breads and even eggless baking!
At the class we'll bake, talk cake, share tips and tricks and have a good time in the company of like-minded folks. My goal is for you to be able to understand and execute recipes beautifully every single time you turn the oven on. Have a look at a bit of TV coverage of a previous class as well as some student feedback.
Come November 21st, I'm going to set myself up at the Eighth* studio in a quaint bylane just off Carter Road in Bandra. If you are interested in attending, then please sign up by emailing me on classes@purplefoodie.com and I'll help you with the registration.
*About Eighth: Eighth is a baking studio by Le Cordon Bleu graduate, Anurita Ghosal. Everything here is baked fresh to order. Here's a look at their menu. Place your order the day before, and pick it up between 4PM and 8:30PM. You can pop-by pick your order, have a coffee with them and enjoy some music while they continue baking. You can also buy their goodies at Yoga House in Bandra. Eighth also offers an array of baking classes – the latest ones inspired from Anurita's time as a pastry intern in Spain and travels in New Zealand.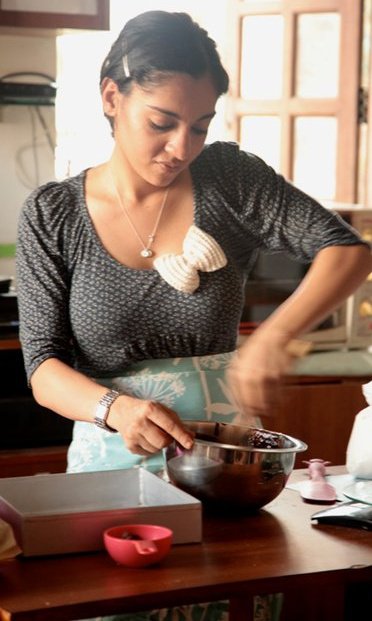 photo credit: sheena dabholkar
WHAT'S BAKING
I will be covering the following recipes and sharing tips and tricks as we go along. All the classes are demo-based.
TEA TIME TREATS
These are a mix of my recent favourites, including chocolate and fruity, nutty and creamy.
Gooey chocolate and almond cake
Passionfruit cheesecake
Walnut sponge cake with yoghurt mascarpone cream
Cinnamon shortbread
Chocolate and hazelnut roll cake
SWEET BAKES (all eggless)
I am not one for substituting eggs with other ingredients just to make things eggless. Instead, I'd rather make recipes that don't depend on eggs, celebrating all the other ingredients. You'll realise that you are not missing out on anything when you eat the baked goodies, for the proof is in the pudding.
Double chocolate sea-salt cookies
Apple pie bars with salted caramel
Chocolate, seed and nut granola
Pear, walnut and cinnamon tart
Pistachio and vanilla cake
HOMEMADE BREADS
Few things are better than cold, salted butter smeared on freshly baked bread. I've put together a good mix of breads that you can easily replicate at home.
Buttery brioche (chocolate and pistachio variation)
Garlic and cheese pull-apart bread
Seeded whole-wheat olive loaf
Chocolate cinnamon babka
Olive oil crackers
SAVOURY BAKES
Learn a bit about breads, savoury pastry doughs, and my favourite cheese puffs that are positively addictive.
Almond Pesto Rolls
Melt-y cheese biscuits
Leek and mushroom quiche
Gougères (choux pastry with cheese)
Tomato and rosemary focaccia
WHEN
Friday, 21st November, 2014
11AM – 2PM: TEA TIME TREATS
4PM – 7PM: SAVOURY BAKES
Saturday, 22nd November, 2014
11AM – 2PM: SWEET BAKES (ALL EGGLESS)
4PM – 7PM: HOMEMADE BREADS SOLD OUT. Monday 24th available.
Sunday, 23rd November 2014
11AM – 2PM: TEA TIME TREATS
4PM – 7PM: SAVOURY BAKES
Monday, 24th November 2014
11AM – 2PM: SWEET BAKES (ALL EGGLESS)
4PM – 7PM: HOMEMADE BREADS
Saturday, 29th November 2014
11AM – 2PM: SWEET BAKES (ALL EGGLESS)
4PM – 7PM: TEA TIME TREATS
Sunday, 30th November 2014
11AM – 2PM: HOMEMADE BREADS
4PM – 7PM: SAVOURY BAKES
WHERE
Flat no 4, 1st Floor, Mudheshwari Building, YMCA Road (off Carter road) Bandra.
HOW MUCH
Rs. 4,000 per class to learn all the five recipes and bring the bakes back with you.
REGISTRATION
To confirm your seat, I request you to please make a non-refundable deposit of Rs. 2000. The remaining amount (Rs 2000 per class) can be paid at the event.
HOW TO RESERVE A SPOT
There is limited seating on a first-come, first-served basis. Popular classes tend to sell out within a few hours, so register soon to confirm your place. To do so, please send an email to classes@purplefoodie.com with the following information:
Subject: Classes  NOV 2014
Class(es) interested in:
Date(s):
Name(s) of people attending:
Preferred method to make the deposit: PayPal or online bank transfer. [No cash deposits please!]
Arjun or I will get back to you within 24 hours. Once your deposit comes through and your spot is confirmed, we will email you again with some more practical information about the event.
–
I'm so looking forward to meeting all you crazy passionate bakers and talk cake. Prepare your questions! I hope you'll join me.
x
Shaheen
PS: If you can't make it this time, sign up on the classes page to be notified about future events!
{ 2 comments }