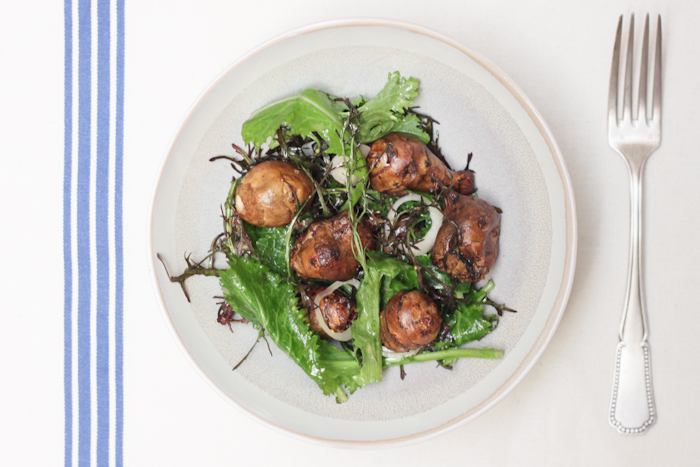 Jerusalem artichokes are one of my favourite root vegetables. These knobby roots are sweet, earthy  and taste like honey when roasted.
I first spotted them when I moved to France. I asked a friend about how I could use them, bought a little bagful and then never used it. Partly because it was unknown territory and partly because I thought that I had to make something incredibly complicated to be able to get the most out of it. I couldn't be more wrong. Keeping things simple, and letting the ingredients speak for themselves is something I learned over time with visits to the market. The belief was fortified when I experienced incredible flavours in the simple, market fresh salads I'd make: tomato and mozzarella or pear and beetroot.
Back to the Jerusalem artichoke. You don't have to worry about peeling the Jerusalem artichokes – just scrub the muddy roots down well and they're good to go. I tossed them in a little salt, pepper and olive oil and cooked them in the oven for 20 minutes. The skin got crispy and puffed up and on the  inside, the Jerusalem artichoke was soft and buttery.
Jerusalem artichokes are pretty amazing made into a soup as well. Chrisitan Eschebest makes a Jerusalem artichoke soup with chorizo and hazelnut oil at his restaurant in Pigalle, and Inaki Aizpitarte did something pretty amazing – served a sweet purée of it with an almond granita, and at Chez Michel we made a mash to serve as a side. Here's a pretty amazing Jerusalem artichoke gratiné that the people at Abri do. [read more…]
{ 3 comments }