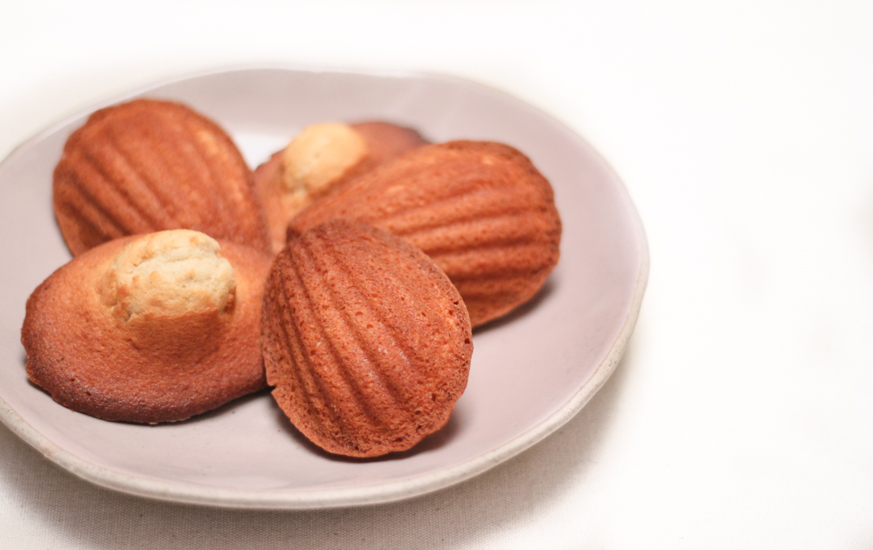 I think madeleines go down as my favourite little French cakes.
They are pretty, they are small, and they can be eaten in two bites. That makes them just the right size for me and my reduced sugar cravings (strange how the more I work with sugar, the less I like consuming it.) And what's even better is that they can be put together in a jiffy.
In my time working at a patisserie, I've made countless batches of madeleines. Over time I've learned a few lessons and debunked the legendary myth that the madeleine batter needs to be refrigerated overnight to attain those coveted humps.
Let's get into a few details: Most recipes, especially classical French ones ask for the madeleine moulds to be brushed with beurre pomade or softened butter. This, in fact, is not good (to the shock and horror of my French colleagues). The mould coated in thickened butter has two problems: it holds on to way too much flour when dusted resulting in the flour caking on the madeleine when baked and unmoulded leaving ugly patches of raw flour (this can also happen if you don't tap off the excess flour properly). Secondly, the chances of the madeleines sticking to the pan are higher. Instead, what you should do is brush a thin coat of melted butter on the pan. Let the butter firm up (or if it's a warm day just pop it into the fridge for a minute) and then dust it with flour through a sieve. Get rid of the excess flour by giving it a firm tap it on the counter. Make sure every nook and cranny has a film of flour – if not, the madeleines are going to stick to the pan. [read more…]
{ 3 comments }