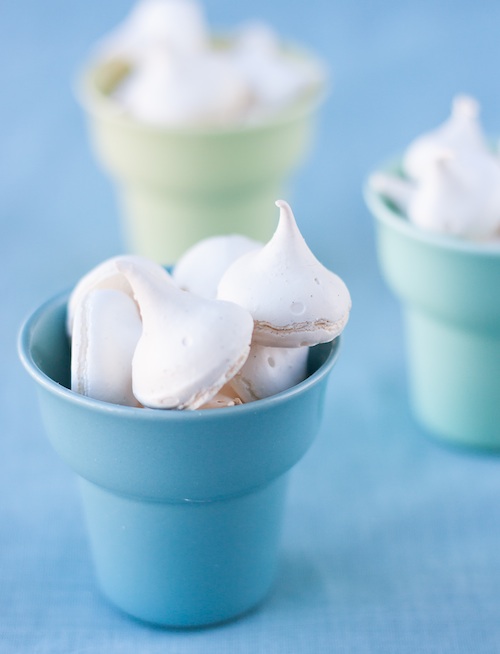 Just when I shot this photo of the little meringue babies, I knew this photo will end up being the opening shot of my feature in this month's BBC Good Food Magazine. And it was.
Here's the recipe for the versatile vanilla bean meringues. Grab a copy of the Feb '13 issue to get all the meringue recipes and lots more.

Vanilla Bean Meringue Cookies
Yield: 70-80 little cookies
240g / 8oz. caster sugar + 1tbsp for the vanilla
120g / 4 oz. egg whites
2 vanilla beans
Preheat the oven to 100ºC.
Split and scrape the vanilla bean and rub the innards with a tablespoon of the sugar so that the vanilla seeds are evenly dispersed.
Begin whisking the egg whites in a large bowl and whisk until it is slightly foamy.
Gradually add the sugar, a tablespoon at a time (or in a slow, steady stream) until all the sugar is incorporated.
Continue to whisk for 7-8 minutes on high speed until the meringue is glossy, and forms firm peaks.
Whisk in the vanilla sugar.
Transfer to a piping bag with a plain tip nozzle No. 8 or 10 and pipe onto a baking tray lined with parchment paper or a silicone mat.
Bake for 15-20 minutes (depending on the size you've piped).
Note: To calculate the number of eggs to crack, use this measure as a thumb rule: 1 egg weighs 50g, 20g yolk and 30g white. So for this recipe, you'll need approximately 4 eggs. Also, the conversions to the Imperial system aren't exact for the sake of convenience – as long as a 2:1 ration for sugar and whites is maintained, the recipe will work just fine.