The trip to Italy was filled with all sorts of fun things – visits to cheese factories and wineries, olive oil tastings, lots of food shopping and a few cooking lessons thrown in fom good measure. One such cooking lesson was held at Academia Barilla, where all of us donned chef hats and aprons and got working under the tutelage of Chef Matteo Carboni.
We made ourselves a 4 course meal, and the menu for our dinner read:
Artichoke cream with procini mushrooms and goat cheese
Swiss chard tortelli
Lamb chops with hazelnut crust served with endive and spinach timballo
Sbrisolona almond cake and Zabiaone.
What I was especially excited about were the lamb chops. One, because I think I don't cook enough meat. And two, because there is no way I'd pass up an opportunity to work with hazelnuts.
The recipe for the hazelnut crusted lamb is really straightforward, and rather quick to make.  The hazelnut crust was a definite winner – I began nibbling on bits and bobs of the crust initially for a quick taste-test, but I couldn't stop after that. One thing I'd do differently – bake the chops instead of frying to cut back on all that grease.
Cut the rack of lamb and trim the meat.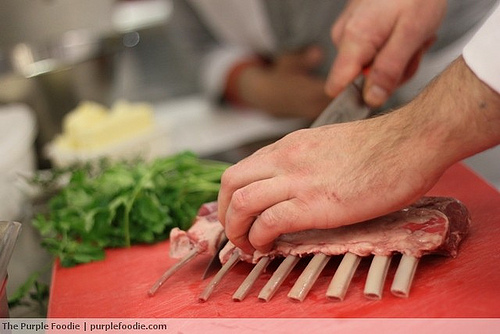 Chop up the herbs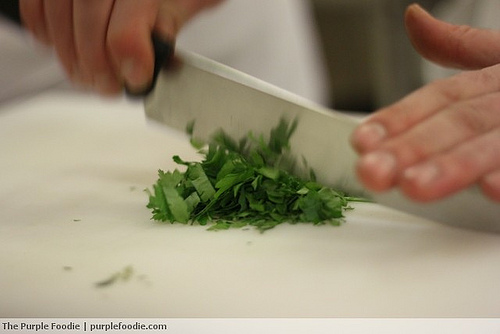 Mix together the herbs, toasted bread crumbs and hazlenuts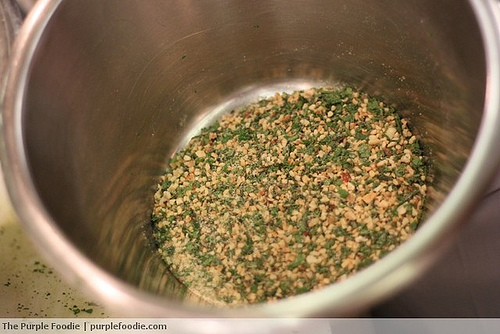 Beat the eggs. (Such yellow eggs!)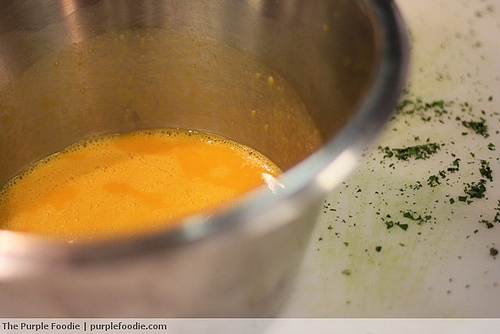 Coat the lamb chops first with a little flour, then dip it in egg, and finally with the hazelnut mixture. Fry it.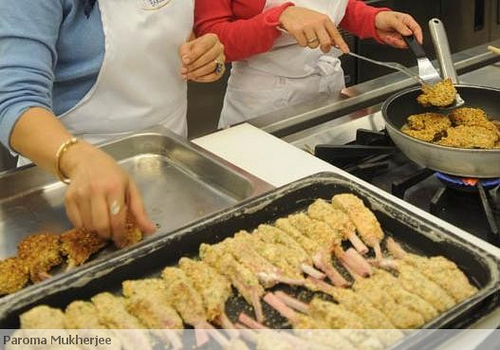 Plate it. Eat it.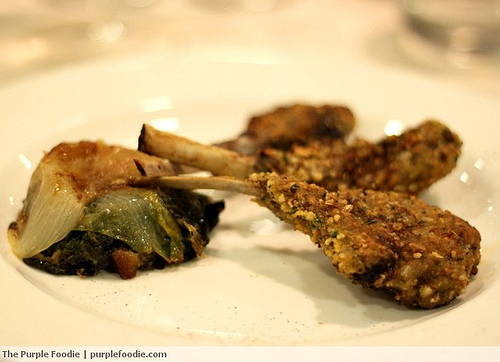 Lamb Chops with hazelnut crust
Serves: 4
Recipe source: Academia Barilla
600g lamb rack
20g parsley, chopped
20g marjoram, chopped
10g thyme, chopped
200g bread (a day old)
100ml olive oil
120g hazelnuts, chopped
2 eggs, beaten
flour for dusting
salt to taste
100g butter
Cut and trim the lamp chops of the excess fat. Set aside.
Sauté the herbs and bread crumbs in a little olive oil (about a tablespoon). Stir in the hazelnuts.
Now, dust the lamb chops with flour, then dip them in the eggs and finally coat them with the hazelnut mixture. Line the coated pieces of lamb chops in a plate until they are all ready to be fried. Season with salt.
Heat a pan, add the remaining olive oil and butter and cook the lamb chops until golden brown on either sides, about ten minutes.

This trip to Italy was sponsored by the Italian Government and the EU as a part of the European Art of Taste (EAT) Program.