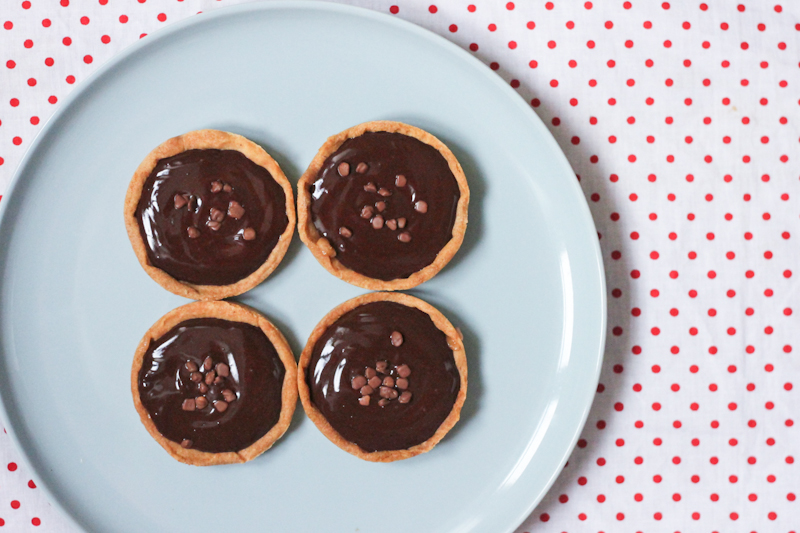 A buttery tart is a thing of beauty. It's main task really is to hold the filling, be it ganache or the pastry cream with fruits. But every little while you come across a tart shell that's tender, buttery and crumbly – the kind that makes you realise its presence, the kind that goes above and beyond its supporting role. Those are the best.
I've been using this tart dough recipe for a while and I really like it. It's really simple to remember as well – the ratio of sugar, butter and flour is 1:2:3. The only thing I'd really insist on is to let the dough relax after you bring it together, and try and not over-work the dough by rolling it out just once and cutting out as many rounds as you can, in the event that you are making individual tarts.
One of my favourite things is a plain old chocolate tart, sometimes made a bit fruity with a layer of raspberry compote if I'm serving it immediately or a raspberry jelly, thickened with pectin, if I'm making it before hand and don't want to worry about the compote making the crust soggy.
I have some tips on tart doughs for reference, and have even made chocolate and caramel tartlets that are pretty amazing to bite into. This time, I wanted to play with sugar and try my hand at making toffee so I made these little tarts with shards of thin toffee hidden beneath the silky chocolate ganache.
Aaaaaand, happy new year everyone! 2014 is going to be a great year.
Ingredients
Tart Dough

150g flour
50g icing sugar
1/2 tsp salt
100g cold butter
Water

Toffee

80g butter
80g sugar
2 tbsp water

Chocolate Ganache

100g chocolate
125g whole cream
Method
For the tart dough, mix together the flour, icing sugar and salt in a bowl. Cut the butter into small cubes and rub it into the flour until the mixture resembles coarse crumbs. Add water, a spoonful at a time, until the dough comes together. Wrap in cling film and refrigerate for at least 20 minutes before rolling out to a thickness of approximately 3mm. Line a 9 inch tart pan/ring with the dough. Refrigerate for 10 minutes for the dough to relax. Then, with a rolling pin, trim off the excess dough.Blind bake the tart with weights (Beans) in a preheated oven at 180C for 20 minutes, and then for another 10-12 minutes without the beans until the tart is golden brown.
For the toffee, add the sugar, butter cut into cubes, and water into a heavy bottomed pan and cook until 148C/298F. Pour it out on one half of a silicone mat and then fold the other half over it so as to sandwich it. Using a rolling pin, roll out the toffee while it's still malleable. Once cooled, you can break them into small shards to place into the baked tarts.
For the ganache, put the chocolate into a bowl (I use Valrhona feves so I break them into halves first) and then pour over cream after it has come to a boil. Whisk gently until it forms a smooth emulsion.
To assemble the tarts, break the toffee into shards and place them into the baked tart shells. Pour the ganache into the tart shells while still warm so that when it's finished, it will set with a nice sheen on it.
Sprinkle some sea salt (I use Maldon or fleur de sel) to finish or some chocolate sprinkles.
http://purplefoodie.com/chocolate-toffee-tart-recipe/