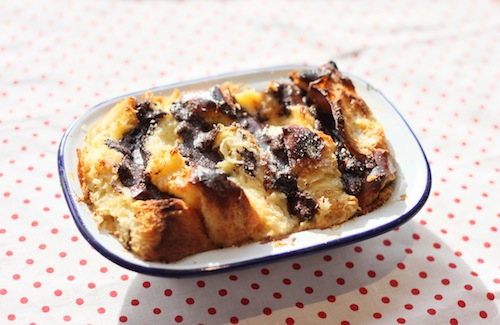 Need a ultra simple dessert that comes together in a matter of minutes and also doubles up as comfort food? This throw-it-together dessert might help: creamy bread pudding with chocolate chips. [Uh, sorry, those don't look like chocolate chips because in my enthusiasm of getting my hands on a sack of chocolate after over a month, I think I added too many for it to look like chocolate chip pudding. So it's slices of brioche oozing with melted chocolate in between.]
This bread pudding is super easy, I practically just tossed the ingredients together without really bothering to follow a recipe at it turned out pretty darn well: Soak a day old (or more) bread in the custard mixture, let it absorb it all, then place it in a dish. Stuff chocolate chips or chunks, whatever you prefer, between slices of moist bread. Bake for 15 minutes. And if that's not enough, pour some chocolate sauce over it.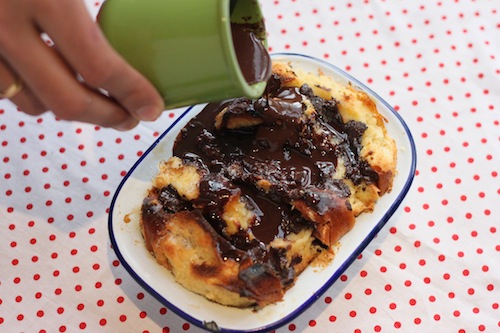 Chocolate Chip Bread Pudding
Ingredients
5-6 slices of a day old bread, thickly cut (I used brioche)
1 egg
1/2 cup milk
1/4th cup full fat cream
1 tsp vanilla sugar
1/2 cup dark chocolate (I used Callebaut 70% cacao)
Method
Preheat the oven to 180ºC.
In a bowl, whisk together the egg, milk, cream and vanilla sugar.
Dip the slice of bread into this egg mixture leave it in for a few seconds on each side.
Place the slices of bread vertically in a baking dish (just as you would were you pretending to place it back like a loaf in the pan)
Next, slip the chocolate chips between the slices of bread. Sprinkle with vanilla sugar.
Bake for 15-20 minutes. Time to eat!
A delicious variation: Use spoonfuls of Nutella in between slices of bread. YUM.