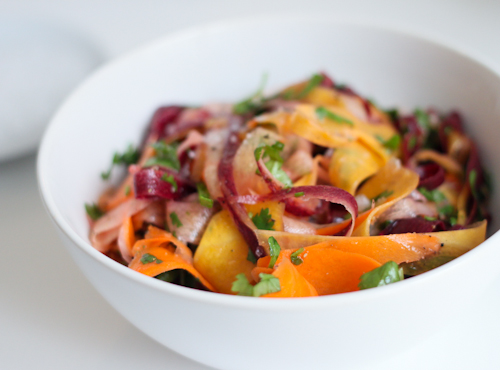 Some of the best meals I eat are those shared with Jennie. And most of the time, they are things we rustle up while preparing for the pop-up lunches that we do every week or so under the Friday Lunches* banner.
Last week when we were out and about putting ingredients together for the sandwiches (we made one with prosciutto, roasted zucchini, artichokes, arugula and honey-thyme goat cheese with hazelnuts), we spotted some gorgeous carrots at the market. I'm no fan of carrots, but these were too pretty not to play with. We bought a carrot in every colour: orange, yellow white and purple, and Jennie made a salad with a maple-lemon dressing. I imagine raisins, nice and plump, soaked in hot water for a while along with a sprinkling of toasted, ground cumin will only elevate the salad. And then maybe a few dollops of fresh goat cheese?
I also wanted to let you know that I finally have an app for the blog! YAY. All you have to do it scan the QR code on you see in the sidebar and it'll do your work for you. I've also put down a step-by-step guide if you need a little hand holding. The app works on Android and iOS phones.
Carrot Salad
Serves 2
4 carrots, peeled
1 bunch coriander/cilantro
1 lemon
1 tbsp maple syrup
2 tbsp extra virgin olive oil
Sea salt
Using a vegetable peeler shave the carrot along the length of it.
Coarsely chop the coriander leaves.
In a small bowl, whisk together the lemon, maple syrup and olive oil.
Toss the carrots and coriander in a bowl with the dressing.
Sprinkle generously with the sea salt.
Serve immediately (or the purple carrots will colour all the other carrots).
* If you're in Paris and would like us to cater to your breakfast/brunch/lunch/ tea/dinner party, send us an email at eat@fridaylunches.fr