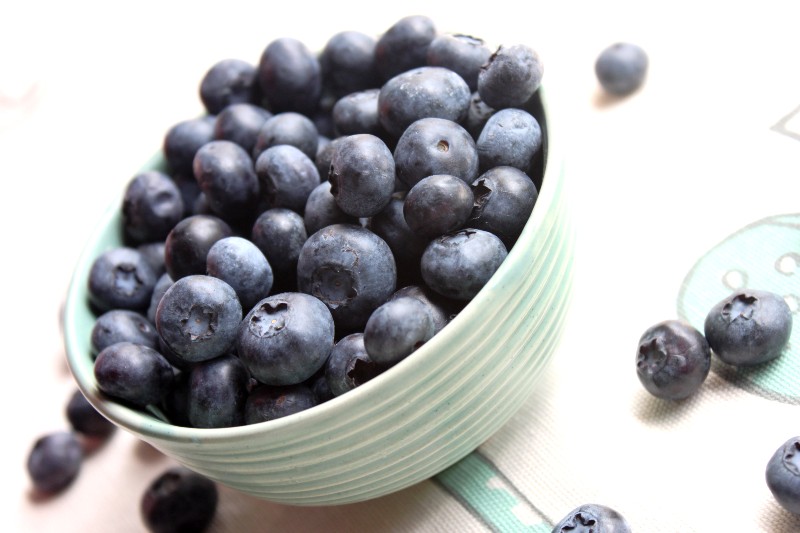 Last week I got a message from my friend D. that read "They have blueberries at the supermarket!!!" I sprung out of my seat and bolted. For some, it might seem like a literary exaggeration, but that's exactly what I did. All the tasks on my Google calendar can wait because I really didn't want to miss out on getting my hands on fresh blueberries this time.
As I approached the shelf that stocked the blueberries, I couldn't stop smiling when I caught the innumerable boxes of blueberries in sight. One guy caught my gaze and grabbed a box too, assuming by the look on my face that it might be some sort of manna (since blueberries are unheard of here). As I picked up a few boxes myself, I thought of the endless possibilities that might be the fate of these blueberries. Muffins, a peach blueberry pie, a grand cake, or a smoothie perhaps? While I waited my turn in the line to check-out, I started snacking on some of the berries (yeah, I know, shame on me for eating them without washing). And soon after, I ate them with vanilla yoghurt – the best way to eat fresh berries. The best!
After having berries right from the box till my mouth turned blue, I finally decided to bake a blueberry almond cake with it. I've had this cast iron pan cake on my mind for a very long time. It's a simple cake, with a gorgeous golden crust. It has a top that gets wonderfully chewy when baked and has a nice toasty bite that the sliced almonds bring to it. With blueberries at hand, this was the perfect excuse to bake the cake speckled blue with juices bubbling from the side of the pan.
I'm so thrilled that we get blueberries here! That makes it one less thing on my letter to God for my baking wish-list.
So when are you visiting us, dear raspberries?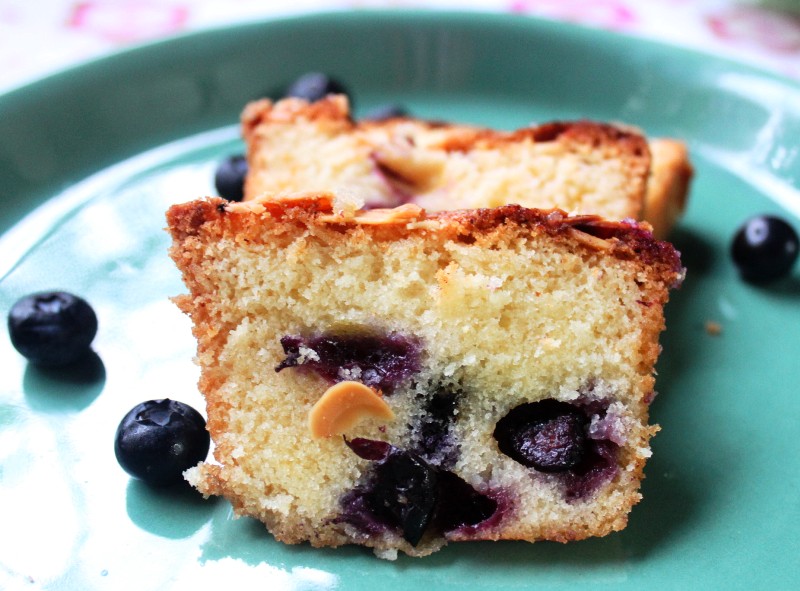 Blueberry Almond Cake
Yield: One 9 inch cake OR one 6 inch cake + a tiny loaf cake
Adapted from: Baking From My Home to Yours (UK | India)
Note: I find the sugar to be a bit much for my taste, so I'd reduce it little next time, about 20-30 grams. Otherwise, a fantastic cake that makes it to my go-to repertoire. The original recipe states that you need to mix in the melted butter right in the end, but I started baking in auto-pilot and realised only after I had creamed the butter and sugar together. If you try the original method, then please report back!
Ingredients:
1 stick / 112g butter, melted
1 cup / 200g sugar
2 eggs
1 tsp vanilla extract
1 cup / 130g all purpose flour
1 tsp baking powder
1/4th cup sliced almonds
½ / 100g blueberries
Equipment:
Cast iron skillet or Small loaf pan
Method:
Preheat the oven to 350F/175C.
Butter a cast iron pan or a 9 inch cake pan generously – this helps attain the covered golden crust.
Beat the butter and sugar together for 2 minutes or until light and fluffy.
Add one egg at a time, until you find that the mixture looks homogenous and the eggs are thoroughly incorporated.
Add the vanilla extract.
Sift together the flour and baking powder and fold it into the egg mixture. Stir in the blueberries.
Transfer the batter to the prepared pan, scatter the sliced almonds, and bake for 25-30 minutes (even lesser when using a small pan), until a skewer inserted in the centre of the cake comes out clean.
Serve warm.