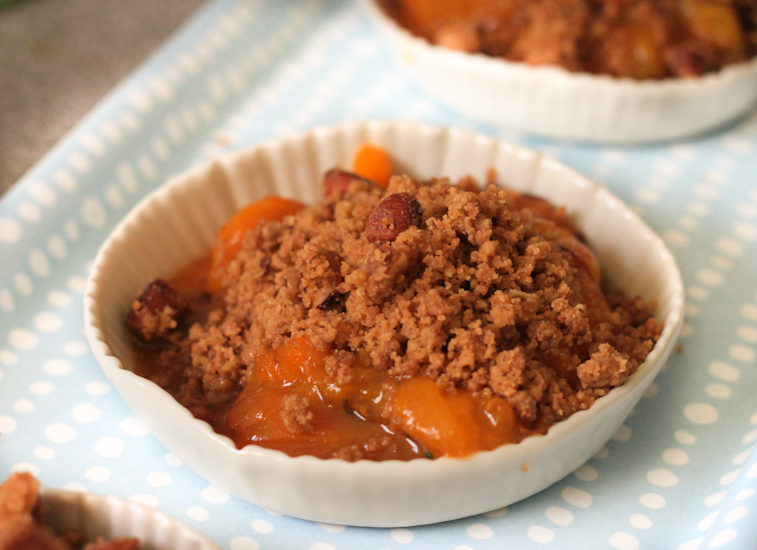 I have found my dessert fix for the summer – an apricot and rosemary crumble that is dolloped with heaping spoonfuls of maple cream.
I first made it a last week when we had friends over for dinner. Ever since, I've made it twice more, and am on my way to make it again right after I publish this post.
I don't care much for snacking on raw apricots, but with a little butter, sugar and heat the apricots are transformed. And ever since I learned what an outstanding combination apricot and rosemary make last summer at Cordon Bleu, I'm a convert. I've roasted them and I've pan fried them, and I think I prefer the pan frying method because it gives me more control. First, heat up a cast iron pan until blistering hot, add a knob of butter, followed by rosemary and a sprinkling of light brown sugar. Then, place the apricot halves, searing their flesh. Finally, turn down the heat and let it cook slowly for 12-15 minutes, flipping it over halfway.
The oven method is convenient when you have guests over, as it so proved. I laid out the apricots in a roasting pan and dotted them with chunks of butter, rosemary spindles and a sprinkling of sugar. Just as we sat down for dinner, I popped the pan of apricots into the oven  at 170C for 20 minutes. The apricots cooked slowly in their own juices with the butter and sugar. By the end of it, the apricots were perfectly soft, yielding with a gentle prod of the fork.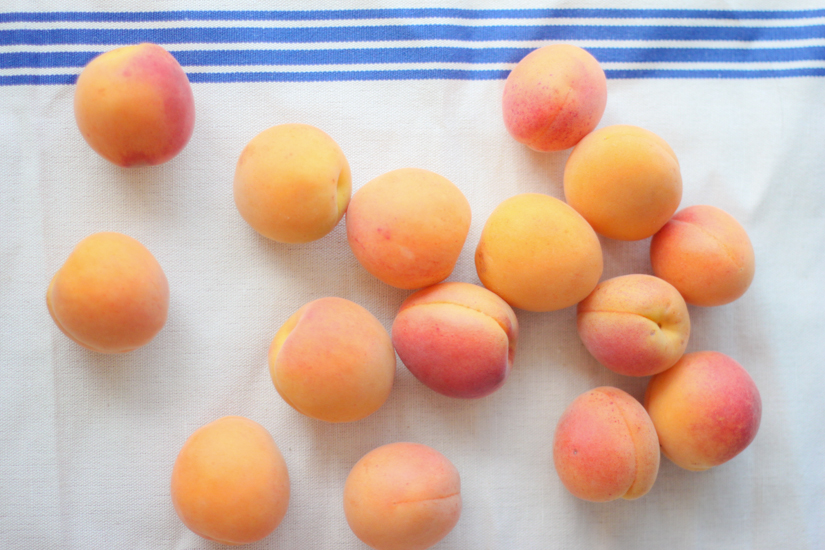 The apricots are just a third of this stellar dessert.
I topped the apricots with a crumble made with buckwheat, spelt, plain flour and almonds. It was so much better than the usual plain flour crumble that we're generally used to. I've been trying to use more types of grains and explore new flavours, as this crumble recipe turns out to be a keeper.
And finally, the cream. Gosh, the cream. Hat tip, Ottolenghi for this outstanding idea. I came across the recipe while flipping through Jerusalem (USA | UK | India) and it seemed like the perfect accompaniment to the apricot crumble. Double cream, mascarpone and Greek yoghurt, whipped together, then sweetened with a bit of maple syrup. It's just lovely.
Even after we were out of roasted apricots, I continued to eat the leftover crumble with the cream. So, so good. You have got to try it.
Apricot and Rosemary Crumble with Maple Cream
Serves 4
Rosemary apricots
800g apricots, halved
50g butter
2 sprigs of rosemary
40-50g light brown sugar
Heat a cast-iron (preferably) pan. Add the butter and the rosemary, followed by the sugar. Just as soon as it's fragrant place the apricot halves, flesh-side down and let it cook for 5-7 minutes. Then, flip it over, and turn down the heat. Cover the pan and let it cook for another 7-10 minutes.
Wholegrain crumble
40g wholegrain flour (I used spelt + buckwheat)
50g plain flour
50g cold butter, cut into small cubes
40g almonds, chopped
50g light brown sugar
Place the flours in a bowl, swiftly rub the cubes of butter into the flour. Stir in the sugar and chopped almonds. Bake at 180C for 15 minutes or until golden brown, making sure to turn the mixture over two or three times.
Maple cream
75g double cream
50g mascarpone
50g Greek yoghurt
Maple syrup to taste
Add all the ingredients into a bowl. Whip until you've got soft peaks. Taste for sweetness.
Assemble
In small serving plates, spoon in the roasted apricots, top it with the crumble and then let everyone spoon over as much maple cream as they like.