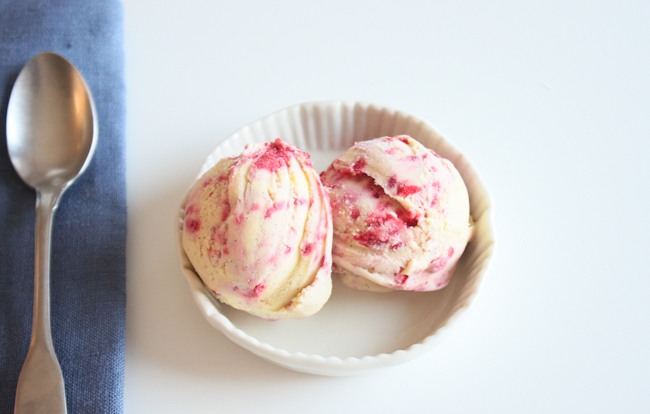 Raspberry ripple ice cream. The name alone is enough to get you excited about warmer days and sunshine.
A rich, custard-y, yellow ice cream base is where it all starts. I admit I went slightly overboard with the vanilla, using 6 beans for the batch, that's 1 bean per 100ml of liquid. It's quite unnecessary. It would be lovely, subtle and perfect with 3 beans alone. Now that I think about it, a tablespoon or two of rosewater would give the rich custard an illusion of lightness; a happy floral note. Add to this a ripple of lightly sweetened raspberries to work against the perfumed base, and you've got yourself a treat.
I made this ice cream with our favourite little cousins who came over for their Easter break. And when that happens, it's usually a weekend of cooking and baking all their favourite things and watching Paddington and Matilda with a massive tray of homemade caramel popcorn within an arm's reach. My cousins, two boys aged 8 and 12, are keen bakers (I'd like to think I have something to do with that). Their enthusiasm is amazing – to split a vanilla bean, to try new ways to separate yolks from whites, to whisk the yolks and sugar vigorously. We made the ice cream base and chilled it overnight in the fridge before putting it through the ice cream maker in the morning. Next time, I've promised them doughnuts.
After looking through several recipes of ice cream, I made one with equal parts cream and milk and a lot less sugar. I've made a mental note of trying a bit of milk powder in the base for extra body for next time. Maybe even a tiny bit of pistachio paste. Oh, the possibilities with a perfect base.
Raspberry Ripple Ice Cream
600ml milk
600ml double cream (you can use single cream too)
3-6 vanilla beans, split and scraped
4 yolks
180g sugar
300g raspberries
30g sugar
Heat the milk, cream, vanilla and about half the sugar together. Let it come to a simmer, then turn off the heat. Let it sit covered for 30 minutes. Have a piece of parchment paper or heatproof cling film touch the surface of the milk to prevent a skin from forming.
Bring the milk mixture back to a boil. Whisk together the yolks and the remaining sugar until pale, light and frothy.
Temper the yolks by adding a bit of the hot milk in a thin stream while continuously whisking the yolks so as to raise its temperature without curdling the yolks.
Transfer the hot yolk mixture back to the pan with the milk and cream and stir constantly on a medium heat until the mixture has thickened and coats the back of the spoon. This should register 77-80C on a thermometer.
Take it off the heat, pass it through a sieve into a container. Cover with cling film, making sure it's in contact with the surface of the custard so it doesn't form a skin. Refrigerate for at least 4 hours, preferably overnight.
Cook the raspberries in a pan with the sugar, until it breaks down completely. Refrigerate.
Pour the custard into the ice cream maker and move forward based  on their instructions.
Transfer the ice cream into a container. Then swirl in the raspberry compote to get a marbled effect. Freeze for an hour before you serve.
PS: Sign up for PurpleFoodie Baking classes if you haven't already!
{ 2 comments }